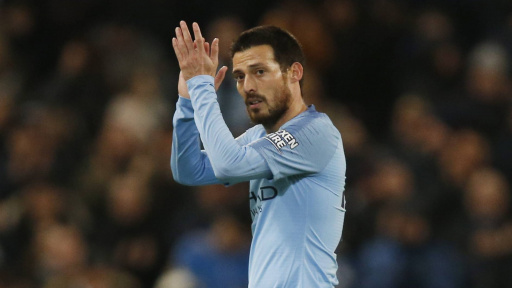 Pep Guardiola has no doubt David Silva belongs in the top five of Manchester City's greatest players. The 34-year-old World Cup winner has helped City to 10 major trophies, including four Premier League titles, since joining from Valencia in 2010.
Pep Guardiola said: "I'd only say that he has to be proud for all that he has achieved in football because he has been consistent and, especially at this club, he will be always remembered as one of the biggest, biggest, biggest players ever to wear the Man City shirt. If we're talking about the top five, David is one of them, and I don't say that lightly. He's not interested in giving interviews, social media, Twitter, Instagram, any of that. And it seems like people like David get less recognition than people who do that all day. But I'll tell you something that he does have, and that's the respect of his fellow professionals – of his team-mates, his rivals, his managers, managers he's played against. And he has earned all of that. Some have all the respect outside but inside the changing room they have none. David is exactly the opposite and that's the best legacy he could have."
Yet there's also little doubt there will have been more written about Paul Pogba's barbershop visits this season, than Silva's seamless transition into a deeper role when asked to play as a "free eight" under Pep Guardiola. And that is probably what makes Pep, Manchester City and David Silva different and the clubs are apart these days – David Silva is a quiet Genius at odds with a world where Paul Pogba Is King
---
Laporte's inclusion in the starting XI against Sheffield United caught many by surprise, having only returned to team training at the start of January.  But Guardiola had no qualms about putting him against a gritty Sheffield United side  and Pep Guardiola later shared his belief that Aymeric Laporte is the best left-sided centre-half in world football.
Pep Guardiola said "We missed him a lot.He has something we don't have in the squad. He is left footed and plays left sided central defender. He makes our build up quicker, not because the other ones can't, but because he is the only left footed central defender. For the way we want to play, he is so important. Apart from his character and mentality, he has all the attributes to be what he is. For me, when he is fit, he is the best left sided centre back in the world."
However, the boss conceded the Frenchman's return did affect how his team set-up at Bramall Lane and admitted he knew beforehand that Laporte would not complete the full 90 minutes.