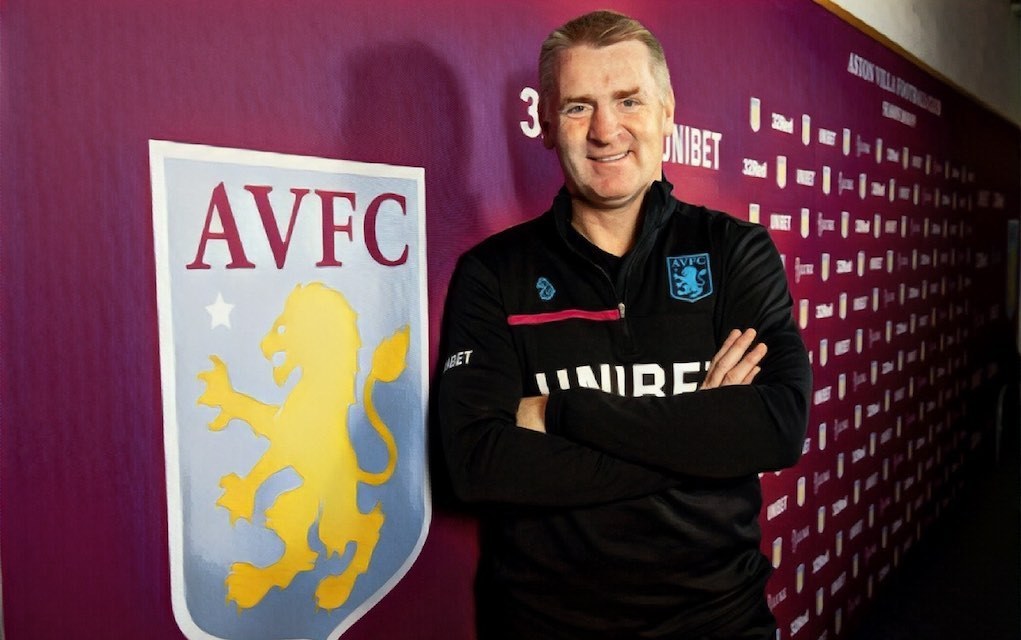 Dean Smith has warned his players they must be on their guard to prevent Watford's Troy Deeney continuing his remarkable scoring streak against Villa. Troy Deeney has scored five times in three career appearances against Villa, including a brace in the Hornets' 3-0 win at Vicarage Road last month. The 31-year-old is well known to Smith, who was heading up Walsall's academy when the striker made his senior breakthrough with the Saddlers a decade ago.
Dean Smith said "Is Troy my kind of guy? No, he's a bluenose. In all seriousness, he's all right Troy. I get on well with him, he is a good guy. Walsall sold him for about £300,000 a long time ago, and he's been at Watford ever since. He's had ups and downs within his career, but he's bounced back every time and he continues to do that. He epitomises the character and application to make it at the top. He can certainly be a threat, if we play like we did at Watford. If we play better than that, then hopefully not. It's down to our players to be on the ball."
Deeney has scored four times during a six-match unbeaten run which has seen Watford climb out of the relegation zone at Villa's expense
---
Dean Smith has called on Villa to embrace the pressure of their Premier League relegation scrap ahead of tonight's six-pointer with Watford. Villa host the Hornets targeting a victory which would lift them over the visitors and out of the drop zone and improve a recent record which has seen them lose three of the last four home matches.
Dean Smith said " The idea is to go and enjoy it, go and thrive on it. People talk an awful lot about being in a relegation dogfight. If that is what it is, so be it. There are enough points to go and play for. You are always getting written off in this life and your job is go and prove people wrong. That is what I will be asking my players to go and do. Our supporters have been very, very patient with us and I thought very supportive during the Manchester City game as well. They can see what we are trying to do and they know we are trying to be competitive in a very tough league. But when we are playing against teams who are in and around us they expect to see a lot more than they did against Southampton. They will do. The Southamptons and Watfords of this world have been in the Premier League a lot longer than us over the last three or four years. When you have established players you have players who are probably earning a lot more than my players and have been Premier League players for a lot longer. I believe my players and my team will be a lot better over the second half of the season and Villa Park is where we have to go and show it."
Jonathan Kodjia has, however, been allowed to leave the club with Dean Smith explaining the Ivory Coast international's fitness had not been at the level required for the Premier League.
Dean Smith said " He wasn't up to the standard, in my opinion. He hadn't got to the level of fitness that, for me, is required in the Premier League. That's the minimum standard to play. He had to work very hard and didn't have a pre-season due to the African Cup of Nations, then an injury followed. He's had to work very hard to get to the levels and due to Wesley playing he's not had the minutes to get up to speed. He wanted to move on and I was happy to let that happen. He left the training ground ill before the Leicester game but there was no problem, it was just circumstances. Jonathan did well for me in the Championship last season but he always knew Tammy (Abraham) was No.1 choice. When Tammy got injured he stepped up to the plate and scored some important goals for us last season."
Villa will be without a recognised striker, with £8.5million capture Mbwana Samatta still awaiting a work permit. The move was expected  to help bolster Dean Smith's thread-bare front line, with the boss being forced to play Anwar El Ghazi up front in the recent games against Leicester City, Manchester City and Brighton. Smith has been robbed of the services of record-signing Wesley Moraes after the Brazilian suffered a season-ending knee injury in the win over Burnley.