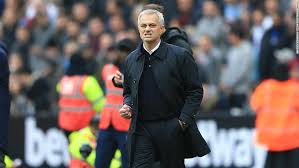 José Mourinho has said he complains every day about the lack of time he has had to work with his Tottenham players since taking over as manager three and a half weeks ago. His hectic start continues at Wolves on Sunday and, when he considers what his counterpart Nuno Espírito Santo has built at Molineux, there is admiration and even a hint of envy.
Jose Mourinho said "It's perfectly clear [for January]," Mourinho said. "I want to work. I'm going to have time to work, which until now I don't have. I complain every day with my staff, the frustration of: 'I want to do a certain kind of training.' I just can't do it. I love pre-season to work. I don't have [that]. We're going to have a little bit of time in January and then depending on the week in February where we are not going to play the Premier League, we are going to have another week. I want time. We're going to play against a team on Sunday that has the same coach for three years; they develop ideas in a stable way. They play almost with a blindfold."
Mourinho discussed the January transfer window and said he needs the players in his squad and, as such, did not think "there'll be many doors open for players to get out on loan". He knows funds will be limited for mid-season additions but what he most wanted was time to work with his existing squad. At least he will have his first clear midweek next week. After Wolves, Spurs do not play again until the following Sunday when they face Chelsea at home.