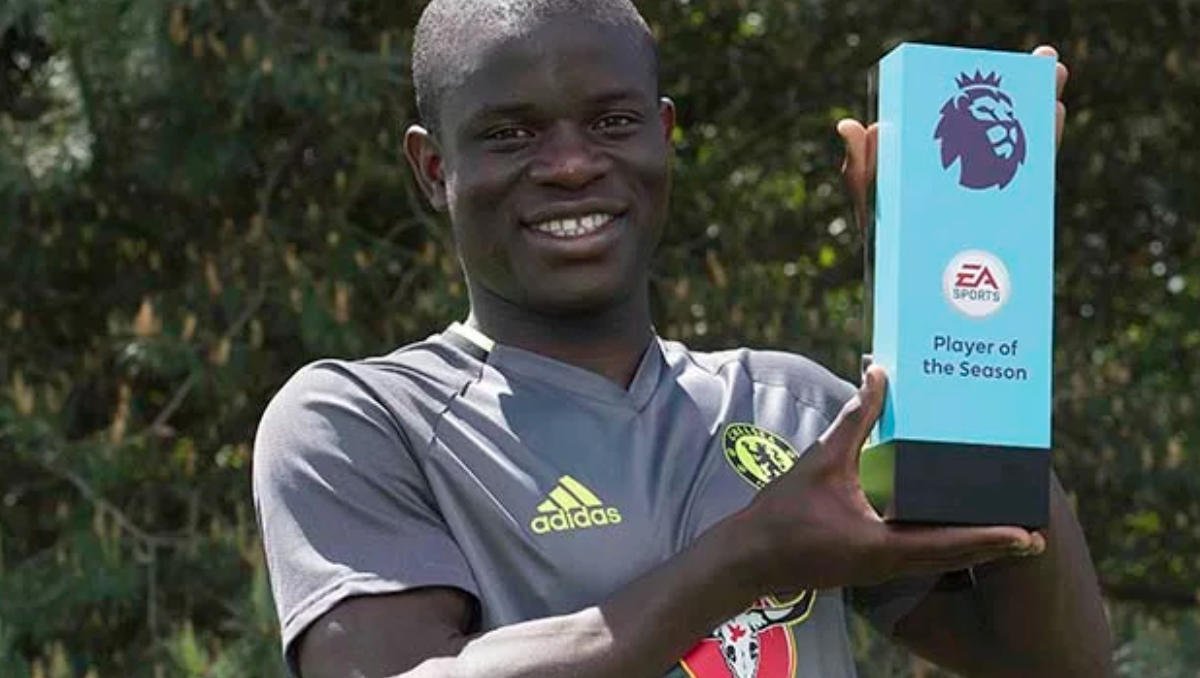 [hr]
Premier League Fixtures
Sheffield United 3  - 3 Manchester United
[hr]
Premier League Headlines
Why Kante loves English Premier League ?

Is Rodgers motivating his Leicester City players to aim for title ?

Is Klopp targeting invicibles, premier league title or both ?
[hr]
Premier League Headlines ( In Details )
[hr]
Why Kante loves English Premier League ?
[hr]
Embed from Getty Images
[hr]
Chelsea midfielder N'Golo Kante has revealed the reasons behind his decision to reject a move to his home nation France and its top club – Paris Saint-Germain.
N'Golo Kante said "Sometimes you don't really know where you are going to go, but you know what you already have. I knew I was at Chelsea, I felt good at Chelsea. If I did not want to come to PSG it was more a sporting choice. I felt good in London, in the project and I was happy to stay here. On top of that, it was a footballing decision. I felt happy in this project and therefore I am happy to stay here.
There was little fanfare when Kante made the move to Leicester from Caen in the summer of 2015, but he proved to be one of the most astute purchases in recent Premier League history. He played a pivotal role in the Foxes' shock Premier League title victory in 2016 before repeating the feat at Chelsea the following year, becoming the first outfield player to win successive English titles for different clubs since Eric Cantona at Leeds and Manchester United in 1992-93.
[hr]
Is Rodgers motivating his Leicester City players to aim for title ?
[hr]
Embed from Getty Images
[hr]
Brendan Rodgers dared Leicester fans to keep on dreaming after the Foxes strengthened their hold on second place with a 2-0 victory at Brighton.  Brendan Rodgers is getting questions from Premier League Fans now whether Leicester had chances of winning the Premier League title again.
Brendan Rodgers said " It's OK, as long as you're asking me in April, it's fine. We're happy we're not shying away from anything but I think, there's 13 games gone. What's really pleasing is the consistency for Leicester City, we arrived and they were 12th when we came here in February, and we wanted to improve and build on the good work that Claude (Puel) had done. And what's great now is that our supporters are singing, 'we're going to win the league' in the most competitive league in the world so that tells you where they're at, the confidence that they have and the dreams that they have, which is absolutely brilliant. For me it's keeping the team focused because you have to work, what you've done in the previous 12 games has gone, it's being judged on today and I thought we put in a terrific performance and another clean sheet for us."
Anyone who has followed Rodgers' career will not be surprised by Leicester's attacking improvement since his arrival. This is the manager whose forward-thinking blueprint inspired Liverpool to 101 goals in the 2013-14 Premier League season. While that season had trio of Luis Suarez, Raheem Sterling and Daniel Sturridge, Leicester's ruthlessness in front of goal is spearheaded by Jamie Vardy. Not only has Vardy scored more Premier League goals than anyone else this season, he's done so more efficiently than any of his main strike rivals.
[hr]
Is Klopp targeting invicibles, premier league title or both ?
[hr]
Embed from Getty Images
[hr]
Jurgen Klopp insists he is paying little attention to records as Liverpool continue to remain the only unbeaten team in English Premier League for 2019/2020 season after 13 matches.  If Liverpool can avoid defeat against the Seagulls Brighton FC in next game, it will see them extend their unbeaten run in the Premier League to 31 games which would equal the club's longest-ever run without a loss in the top flight. Arsenal are the only team to go unbeaten in a Premier League season.
Jurgen Klopp said "I have no clue about the record. I don't know what it means because I should think about it before I answer. We are not there to break records, we are really there to get the best results over the full season. If we break one or two records – good – and we will take that, but winning the next game is much more important than people saying in 10 or 15 years that was the record set by this team. We really have a bigger job to do, but if one depends on the other, we take both. It is probably not possible, but we don't think about it to be honest. We think about how we can win the next game and the next game."
Whether it was the greatest Premier League season of all-time is up for debate, but Arsenal's 2003-04 team will always stand apart from the rest as the 'Invincibles'. Pep Guardiola's current Manchester City side smashed the record for the most points in a single campaign in the Premier League era with 100 points in 2017-18, and Manchester United have also won the title with more than the 90 the Gunners collected on their unbeaten run. But neither of those great teams can say they have ever gone an entire season without losing a league game.
[hr]