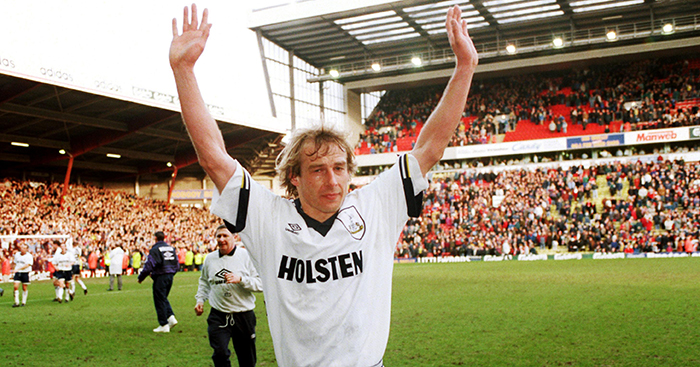 On the opening day of the 1994/95 season, it was an enthralling fixture at Hillsborough. In a high scoring game, Tottenham Hotspur defeated Sheffield Wednesday with a 4-3 scoreline. In front of 34000+ fans at the stadium, Jurgen Klinsmann scored the 82nd minute against Sheffield Wednesday.
Tottenham Hotspur started the game on a high tempo and were first to register the goal on the scoresheet, Teddy Sheringham scored the first goal of the season in the 19th minute whereas Darren Anderton doubled the lead at the half an hour mark. However, Sheffield Wednesday tried to peg back with a goal in the 54th minute. Th own goal in the 66th minute made it all square.
Nick Barmby in 71th minute scored the third goal for Spurs whereas debutant, Jurgen Klinsmann scored the potential winner in the 82nd minute. However, the drama was still left in the game when David Hirst made it 4-3 in the 83rd minute. Tottenham Hotspur held the fort thereafter and won the thrilling game at Hillsborough.
Jurgen Klinsmann, the German international striker, was signed for a fee of £ 2 million in the summer transfer window from AS Monaco. The striker justified his price tag when he rose to meet the ball provided by Darren Anderton and scored the goal in the 82nd minute to leave Sheffield Wednesday behind. However, in the 85th minute, the player met with a head-on collision and was stretchered off.