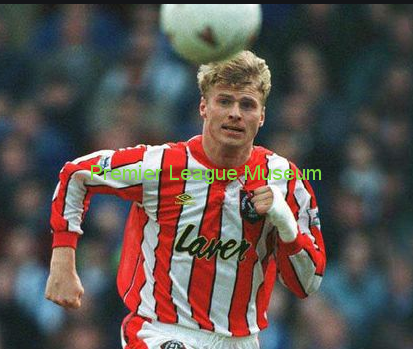 Norwegian striker Jostein Flo salvaged a point for 10-man Sheffield United with two goals in the last nine minutes to complete a remarkable comeback. United had former Tottenham midfielder David Tuttle sent off for two crunching fouls on Paul Moody in the space of nine minutes. Peter Reid inspired lan Branfoot's team, having been made captain on his debut, and Saints took the lead after 28 minutes.
A free-kick from Mickey Adams curled past everyone except defender Ken Monkou, who guided the ball in at the far post. Two minutes into the second-half Tuttle was ordered off after he brought Moody crashing down again. That seemed to galvanise his teammates but Saints went further ahead after 53 minutes when Paul Beasley failed to clear a cross from Paul Allen and Neil Maddison volleyed past Simon Tracey.
United hit back after 72 minutes when Flo crossed for midfielder Willie Falconer to drive the ball in off a defender. Dubliner Jeff Kenna appeared to have settled things after 77 minutes when he rounded off a good move by driving a first-time shot past Tracey from the edge of the area. But Flo put United on the road to recovery with a flying header after 81 minutes. leaving Flowers flat-footed, and in the dying seconds, he pounced in a goalmouth scramble following a corner to poke the ball over the line.