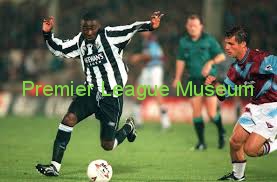 Battling Newcastle staged a remarkable comeback to leave Wednesday's Geordie boys Chris Waddle and Andy Sinton down and out at St James' Park. Waddle made both Wednesday goals for Sinton but there were cancelled out by Newcastle's goal ace Andy Cole, whose double strike took him joint leading scorer in the premiership with five goals.
Then little known substitute Alex Mathie grabbed a world-class third goal nine minutes from time after the Owls had threatened to run riot. Malcolm Allen's strike in the 88th minute gave the scoreline a rather flattering look.
Wednesday arrived at St James' Park with three strips but none were acceptable to referee Roger Dilkes. After behind the scenes discussions Newcastle reluctantly played in their away strip of blue.