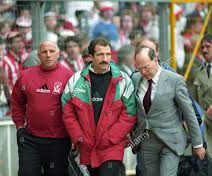 Liverpool manager Graeme Souness's future was again the subject of speculation after an emergency board meeting at Anfield where the club directors had a four and a half-hour meeting at the ground but insisted later on that it was about financial matters. But Souness' position was rumoured to be under scrutiny for a number of weeks after Liverpool's worst year in terms of on-field performances for over 30 years. The team lost 1-0 to Norwich that weekend after flirting with a relegation fight for a while was set to finish a disappointing mid-table that year.
Liverpool CEO Peter Robinson said "You wouldn't expect me to tell you what we have been discussing. It is five days before the end of our financial year and we often get together to talk about these matters."
---
Premier League fans –  We would love to hear from you on the memories that you about English Premier League. Please fill out the form below and we would like to reach out to you and publish your "Premier League" moment to the world. 
---
---