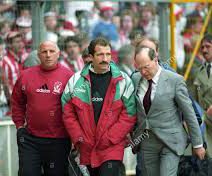 Graeme Souness protested his innocence last night after being fined £500 and warned about his future conduct by FA chiefs for his touchline misdemeanour. Though the Liverpool manager escaped a fourth touchline ban in his stormy management career, he was still "extremely disappointed" to be found guilty of ungentlemanly conduct after a personal hearing in front of FA disciplinary committee.
His punishment was for an outburst at linesman Mike Bullivant in their game against Crystal Palace which saw him ordered from the dugout by referee roger Dilkes.
Graeme Souness had turned up to hearing with league managers association's solicitor said he was flanked by a completely silent Graeme Souness but insisted that Bullivant's recollection of the incident was inaccurate.
---
Premier League fans –  We would love to hear from you on the memories that you about English Premier League. Please fill out the form below and we would like to reach out to you and publish your "Premier League" moment to the world. 
---
---