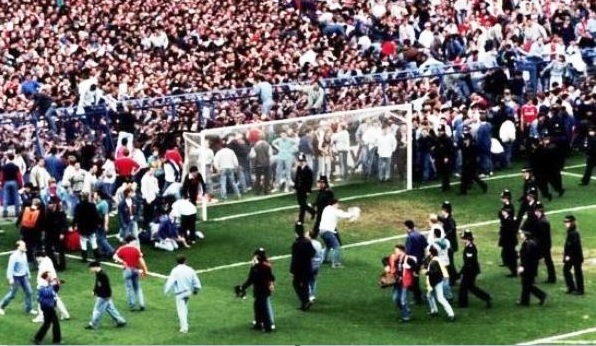 The Football Association were once again considering launching an inquiry into crowd violence after fans invaded the pitch during the FA Cup quarter-final tie between Manchester City and Tottenham Hotspur. The question of re-erecting fences at football grounds was likely to be considered.
All perimeter barriers were removed from football grounds after the recommendations of the Taylor Report into the Hillsborough tragedy in 1989 when 96 fans died after being crushed against security fences in an FA Cup semifinal between Liverpool and Nottingham Forest. – Ironically, the latest pitch invasion came at the new £6 million all-seater stand at Maine Road. The referee, Ray Lewis, was also in charge at Hillsborough.
The play was Interrupted only minutes before the end when 300 supporters of the losing home side invaded the pitch. Police on foot, some with dogs, and club stewards dispersed most of them before 13 mounted police formed a line between rival fans. There were 31 arrests for public order offences and fighting between rival fans continued around the ground after the game, which City went on to lose 4-2.
City chairman Peter Swales described the fans involved as "obnoxious." He – said the question of ground security would be discussed at an FA Council meeting in London today. "We've got to do something because it is clear now that this sort of thing is just not going to go away," he added.